Opening April 27, 2016!

---

Victor Herbert Renaissance Project Live presents:

---

The Serenade


America's First Theatrical Masterpiece

---

STRICTLY LIMITED ENGAGEMENT!!!
8pm Wednesday & Thursday,
April 27 & 28, 2016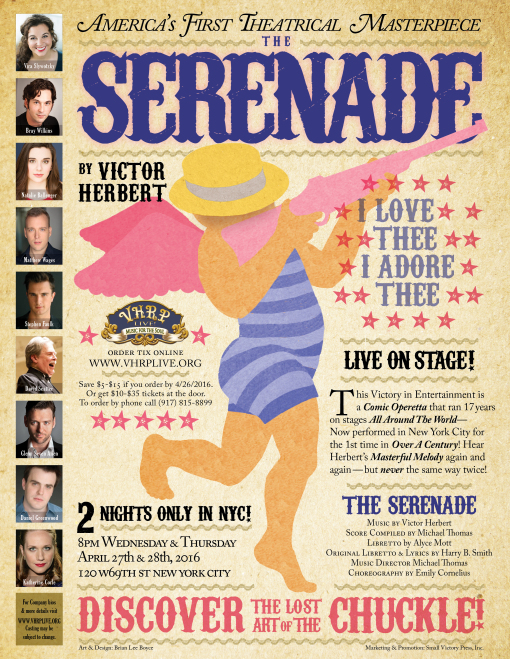 Victor Herbert's wildly popular 1897 comic operetta, The Serenade, forever changed the landscape of American musical theater. Rarely heard, despite its historic popular success in the US and abroad, The Serenade returns to New York City in a semi-staged concert reading for a strictly limited two night engagement Wednesday April 27th and Thursday April 28th, 2016, at 8pm, in Christ and St Stephen's Church, 120 West 69th Street in Manhattan.
Victor Herbert, arguably the most important theatrical composer of the early 20th century, championed the transformation of traditional Viennese operetta to the Americanized form of musical comedy. Herbert's first major success, The Serenade is known for a song that sweeps the Spanish countryside, and a light-hearted storyline with a near-sighted guardian wooing the girl a youthful suitor wants to steal away. In its original form, The Serenade has not been performed in New York City, or on the East Coast in over a century!
In its continued mission to restore Herbert's popularity among American audiences, Victor Herbert Renaissance Project Live presents The Serenade as the finale to its 2015/16 season. VHRP Live is the only company in the world devoted exclusively to Herbert. 20 resident artists comprise the company's roster of exceptional talent including the voices of Brian Kilday, Vira Slywotzky, Bray Wilkins, Natalie Ballenger, Matthew Wages, Stephen Faulk, David Seatter, Glenn Seven Allen, Daniel Greenwood, and Katherine Corle.
Victor Herbert, an Irish born musician, composer and conductor is known as "the master of American melody." VHRP Live's 2015/16 season presents music and lyrics from comic operettas by Herbert to highlight his wicked and whimsical wit. Audiences are invited to "come smile ear to ear, and discover the lost art of the chuckle," by hearing Herbert's marvelously melodic songs (with tongue-in-cheek lyrics about amorous intrigues) from The Serenade's comedic, unlikely plot including "Cupid And I," "I Love Thee, I Adore Thee," "The Singing Lesson," "Gaze On This Face," "Song of the Carbine," "A Duke of High Degree," "Woman Lovely Woman," and more.
Music Director Michael Thomas conducts, William Hicks accompanies on piano, and Emily Cornelius choreographs. Original book and lyrics by Harry B. Smith, 2016 book adapted by Alyce Mott.
CLICK HERE TO ORDER TICKETS $10-$30 ONLINE BEFORE APRIL 26th or buy $10-$35 tickets for sale at the box office at 7:30pm on Wednesday April 27th and Thursday April 28th, 2016, at 8pm, in Christ and St Stephen's Church, 120 West 69th Street, New York City.